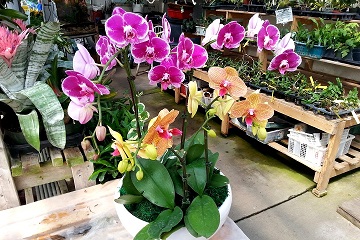 Custom planters and baskets – Drop off your empty container and tell us what colours you have in mind. We'll have it ready for pick-up shortly. We ask that you bring in your summer containers in April.
Bonsai Repotting – Come in the spring and we'll help to shift your bonsai into a bigger pot.
Orchid repotting and dividing – We'll give your orchid what it needs to grow: New pot, new medium and a lot more space for roots to flourish.
Custom arrangements – For those special occassions, we can put together arrangements with orchids, succulents, bromeliads, you name it.
Shipping – we ship all over Canada via Canada Post. Dry goods can be mailed out any time of the year while live plants can be mailed between late May to late September.
Garden layout – Unsure how to plant your new garden? Bring in a photo and we'll help you plan it out.